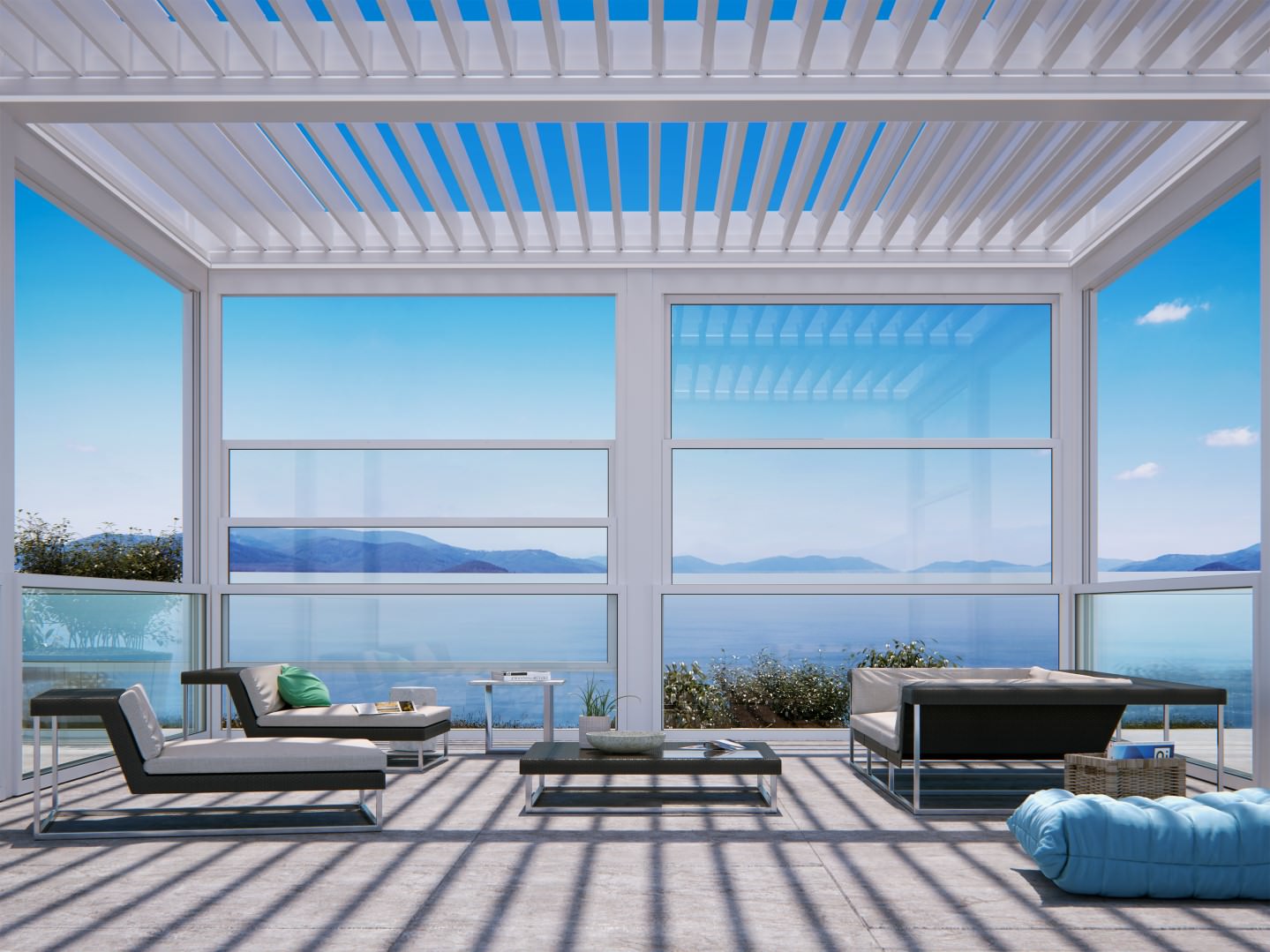 Choosing the Right Roofing System for You
When designing an outdoor space for your home or business, there are many things to keep in mind, but near the top of the list is bound to be the roofing system you choose. Choosing the right roofing system can transform your space into one that inspires joy and happiness. At Space Transformers, we specialize in providing top tier outdoor roofing solutions.
Finding the right solution for you will come down to your specific space and intended aesthetics; below, we run through the top outdoor roofing systems you can choose from.
Retractable Systems
A retractable roof system can pull back from a full coverage position to reveal the open sky. The retraction can be a motorized function operating with the press of a button. If installed in your home, a retractable roof will give you the option to completely open your existing outdoor dining area, courtyard, or deck with little to no effort.
If you're a hospitality business owner and need tight control of the elements to be able to schedule functions and events with certainty, choosing a retractable roof will give you the control you need to hold a sunny brunch in the morning followed by a relaxed and quiet business meeting in the evening.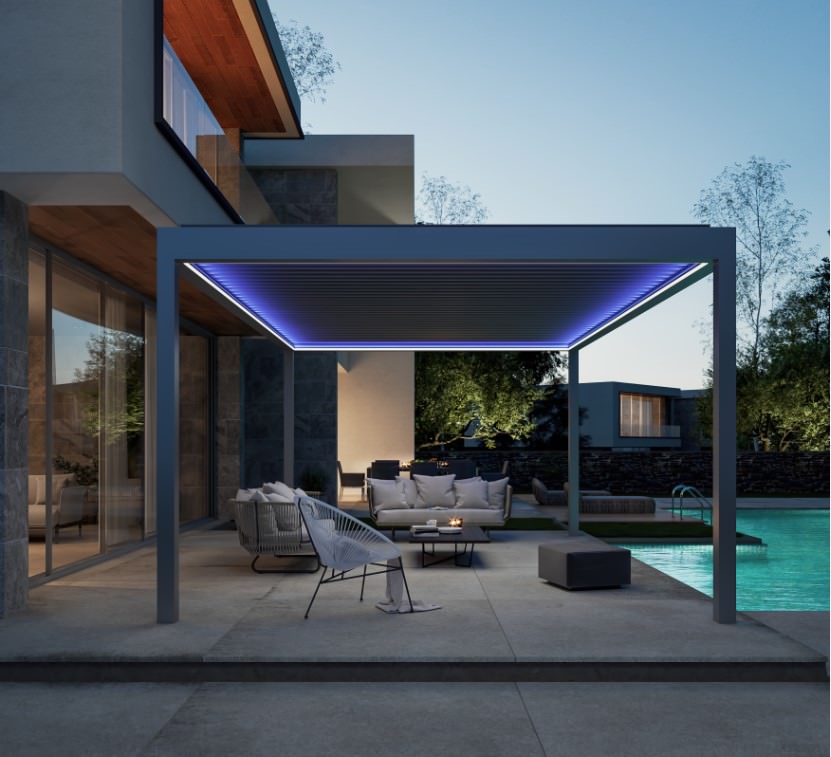 Tilting Louvre Systems
While similar to retractable louvre systems, you can open up your roof from a closed position; a louvre roof system has a few distinct differences. A louvre roof functions like a blind would, with long strips which can rotate to reveal the sun as needed. This louvre roof system does prevent the roof from entirely opening up but has the advantage of controlling the degree to which you let light into your space. This louvre roof system can be an excellent tool to help you maintain your outdoor area's temperature, light, ventilation and provide you shade and protection from the scorching heat and harmful UV RAYS of the sun.
Tilting & Retractable Louvre Systems
If you are looking for the best of both worlds – we have combined tilting & retractable louvre roofing systems which will enhance your lifestyle. These elegantly designed roofing systems will give you the ability to transform your outdoor space conveniently and with great customization. The retractable roof will allow you to completely bathe your outdoor space in light whilst the louvre will give you fine control over the space's mood, temperature, and elements. In combination, these design features will provide a space where you can de-stress or become inspired.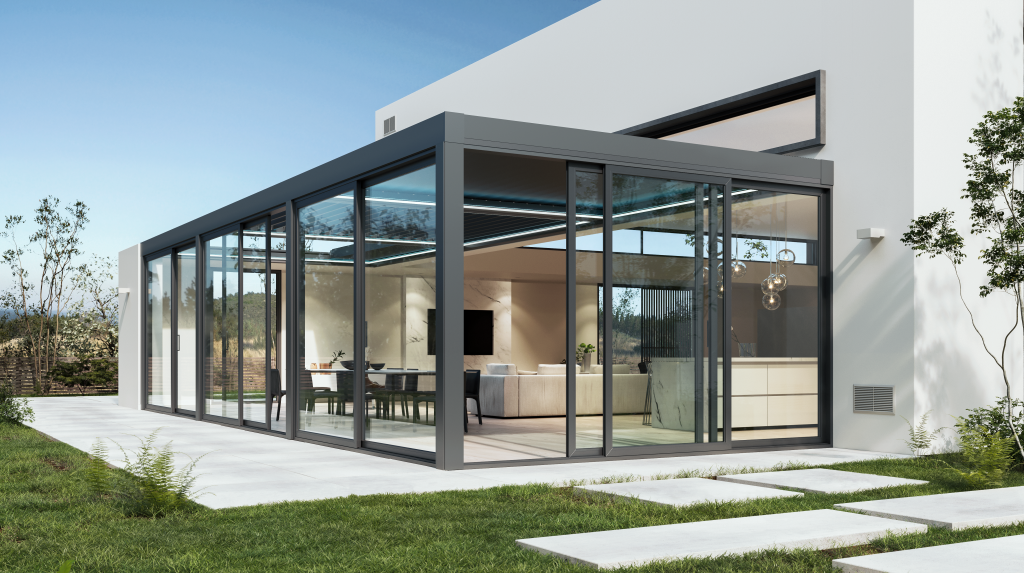 Fixed roof
A fixed roof can be a good idea if you are looking for some elegant and simple. With no moving features, a fixed roof will have significantly fewer maintenance needs over the long term. Fixed roofs have been manufactured from materials such as aluminium and polycarbonate. Fixed roofs can be an excellent option for a reliable place to dine, work, or lounge underneath. If you're looking for consistency, then a fixed roof may be the style for you.
Sliding Glass Panes, Outdoor Blinds, & Louvre Shutters
The sides of your canopies and roof systems are crucial in protecting you from the elements. New Zealand's weather can sometimes throw surprises your way with heavy winds and sudden rain. However, Space Transformers has a solution to these problems. Outdoor roofing systems, such as the Aerolux Retractable roof system, have sliding glass panes on the sides to provide shelter from the elements when needed.
Suppose the sun is what you want protection from. In that case, installing a motorized outdoor blind or louvre shutter can do the trick to help block the suns rays coming through your space and disrupting your work, play, or rest.
Motorized outdoor blinds are also great for blocking wind and sheltering you from the rain. They can be installed and retrofitted to any outdoor roofing structure. An optional extra–motorized outdoor blinds will make your outdoor living more functional and comfortable all year round.
Transform Your Space Today
Whether you're building your dream home, renovating your current home or perfecting your commercial space, Space Transformers are here to help you find the roofing system to suit you. Contact us today, and we will be happy to walk you through our services and discuss your vision for your perfect outdoor space.